This shop has been compensated by Collective Bias, Inc. and its advertiser. All opinions are mine alone. #SummerSoStrong #CollectiveBias
If you've been hanging around here for awhile you know that Ben and I moved into our new home this past fall, we're officially into the first month of our first summer here and already we're spending so many days grilling out and enjoying porch weather. I find a meditation in cooking and Ben loves to grill so we've just recently started having friends over to experience a little bit of country living with us.
This past weekend I made plans with my friend Lauren and intended to bring some of that outdoor summer cheer over to her house as we planned a pool day afternoon. I packed up a basket and traveled over with every intention of dining al fresco. Well sometimes, despite the blue sky weather report, the sunshine refused to come out, the rain comes in - and so what was originally intended to be an afternoon cooking outdoors became rainy day indoor fun.
I had planned to make ROYGBIV grilled veggie pizzas, a favorite Saturday afternoon recipe in partnership with
Dixie Ultra®
. However with the change in weather the pizzas we made were modified just a bit as we roasted the veggies and baked the pizzas versus doing everything on the grill. In the meantime, I posted the whole process on IG stories and so many of you were like "GIVE US THAT RECIPE" and truly you can create these rainbow delights either way and it's all super easy! 
The Dixie Ultra® paper plates, are strong, super cute (co-created with the design gurus at Target) and will keep up with your long-summer days - standing up to whatever you dish up during your backyard barbecues, pool days and parties. Keeping in mind this particular afternoon was really a "just because" Saturday hang out, it seemed like the perfect time to test out the plates and celebrate time together without worrying about lots of clean up afterwards.
So, why ROYGBIV and why is this in the beauty column?
As you guys know I'm all about eating for my health and to be your healthiest reflect back to elementary school art class and remember this rule: ROYGBIV - red, orange, yellow, green, blue, indigo, violet. Mama Earth gives us fruits & veggies of every color and the general idea is to eat foods from each of these color families every day. The goal in this is to get all of your vitamins and minerals in without having to supplement and following this approach will allow for that!
Read on for the recipe, a few variations and learn a bit more about Dixie at the close of this post!
Rainy Day Rainbow Veggie Pizzas
Organic Pizza Crust (get fancy and make your own, or buy a store bought version to keep things simple)
Organic Pizza Sauce (same as above!)
Mozzarella Cheese, sliced thin or shredded (or whatever your preference is!)
Here's the veggie and spice breakdown in order of the color scheme, you don't need all of these, truly you can choose your favorites as long as you promise to load up on them. I never really measure things out for recipes like this, it's all a bit intuitive, just chop up enough veggies to cover the pizzas and eat the leftovers on the side:
Red: Red Pepper, Sundried & Heirloom Tomatoes, Cayenne Pepper (a pinch, sprinkled across the top)
Orange: Freshly Grated Turmeric (a thumb is plenty)
Yellow: Yellow Pepper, Heirloom Tomatoes, Freshly Grated Garlic (a clove or 3)
Green: Asparagus, Brussel Sprouts, Fresh Basil, Oregano (a dash)
Blue: Hmm, this one was a little trickier to get on the pizza, so I diced up some fruit for a salad on the side with blueberries, strawberries & bananas for dessert.
Indigo: can we include this in the Blue category? I think so.
Purple: My heirloom tomatoes included a few with purple hues, however you could add in eggplant here too!
Ok, now to give you some variations if you want this to be suuuuper easy and "just because" you could purchase a pre-made organic pizza and throw it on a pizza stone over the grill or in the oven - and as I mentioned if you want to get a little fancier you could also make your own dough & sauce. I won't leave the recipe for that here, but my friend Lauren has been making her own and so far the results have been good!
Back to the process: once you've got all of your ingredients lined up give all of the veggies a rough chop and get things underway.
Grilling Option
If you're going to grill your pizza, start by grilling the veggies first. I like to pile mine into aluminum foil and let them cook over direct heat for a few minutes. You could cut them a bit larger too and place them directly on the grill. (Ben loves this approach).
Once the veggies are looking good give the grill a coat of oil and add the crust. Let it cook for just a few minutes over direct heat. Using tongs, check to make sure it's browned a bit and flip.
Once it's browned, flip it and follow up with your sauce, cheese and then pile on the veggies. If the crust seems to be cooking through and the toppings still need more time using the tongs slide the pizza to lower heat. You're in for a charred and deliciously awesome treat.
Roasted & Baked Option
Chop all the veggies just the same, heat the oven to 350 degrees and spread them across a baking sheet. Add some olive oil and sea salt and let them roast.
In the meantime slather the sauce on the crust and add the cheese. Once the veggies have had 7-10 minutes to really get going, pull them out, and put the pizza in. I like to let it go long enough to have the cheese start to melt and then pull it back out to dress it with the veggies. Pile the veggies on top, and place it back for just a few more minutes.
About Dixie Ultra®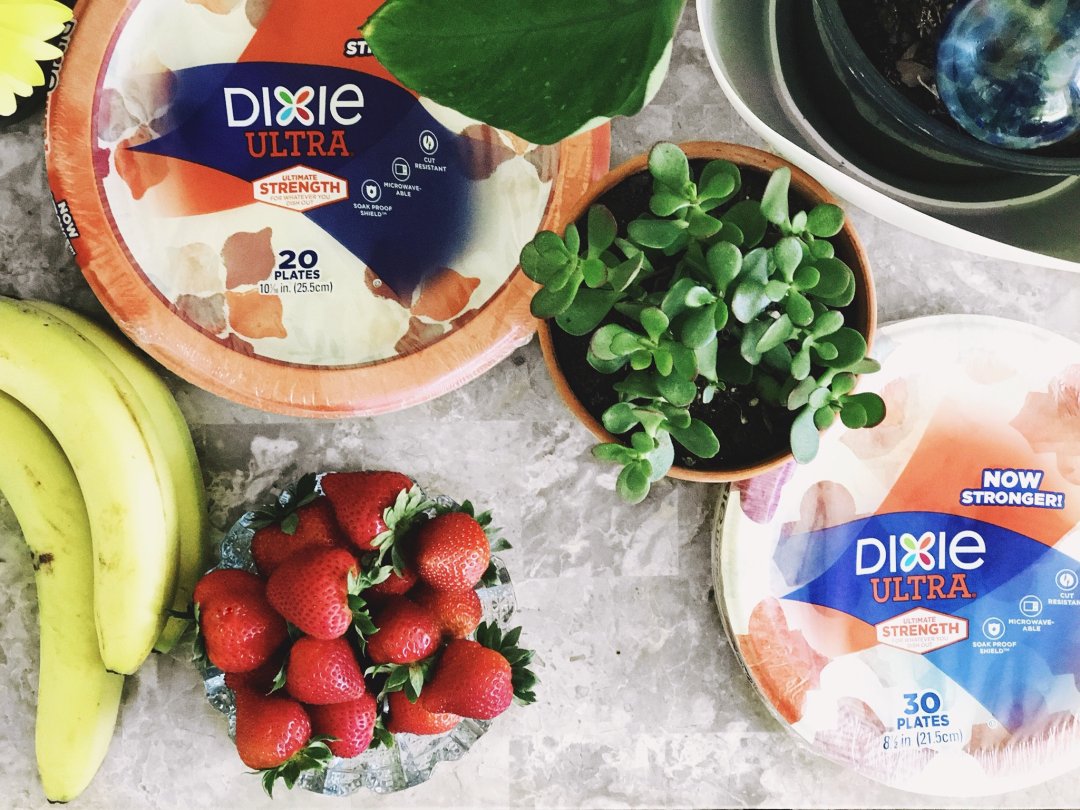 Strong & Confident: Dixie Plates are stress tested, stronger than ever and have a new, innovative rim. They're full perfect for piling lots of goodies on your plate.
Soak Proof Shield™ & FlexProof™ Technology: they stand up to the heaviest, messiest foods you can dish out.
Skip the dishes: spend time with your friends and family with less clean up, they're also microwave safe, recyclable and cut resistant.
Happy first day of Summer by the way my wanderful friends! How are you spending it? Thanks for being here, see you again soon!
Wanderfully yours,
Andi
You'll Also Like