Our Wanderful Guide: Mary Grayson
Imagine setting out on a road trip for eight days across a country steeped in culture and vibrant color where each stop along the way is completely different than the next. Where you find yourself ducking through souks in winding city streets one day and gazing across diverse landscapes on a long drive another. This is the magical, contrasting beauty of Morocco.
It's a place for adventure-seeking or finding a new sense of discovery and relaxation. It's the city, the mountains, the beach, and the desert. You'll find yourself among beautiful art, exquisite design, and detailed architecture throughout the entire country. It's not just about the surroundings, however, it's the connection that you have with the locals, the rich history, and the 3,000 year-old traditional stories shared by a Moroccan storyteller that will make you fall in love with this country.
Morocco is the land of about 300 days of sunshine, making it incredibly wonderful to visit almost all year round. The country's northern locale also positions it as a great entry point into Portugal or the rest of Africa, as well.
To follow in my footsteps, keep scrolling through my journey — from Marrakech, Agafay Desert, Atlas Mountains, Sahara Desert, and up to Fes before leaving via Casablanca. Most of the stops along the way weren't connected by quick transfers, but rather eight-hour stretches broken up with stops along the way. Buckle in, it's a journey for the books.
Marrakech
From sidecar rides through the palmeraie, candle-lit dinners with locals, hot air balloon rides above the changing landscapes, there's not another city that seamlessly blends the new and the old better than Marrakech. Make sure to spend some time checking out the vendors in the Medina, where you'll find craftsmen with years of knowledge creating everything from rugs and pottery, to lamps and leather goods. Other great stops along the way: Yves Saint Laurent Museum and the Majorelle Garden.
Agafay Desert
A rocky terrain that exists a short drive from Marrakech, Afagay Desert is the perfect alternative if you can't get out to the Sahara. The desert provides the ideal backdrop for quad biking under the sun, a sunset camel ride and a camp out under the midnight sky. Jazz up your evening with a fire show or a private candlelit dinner in a secret location.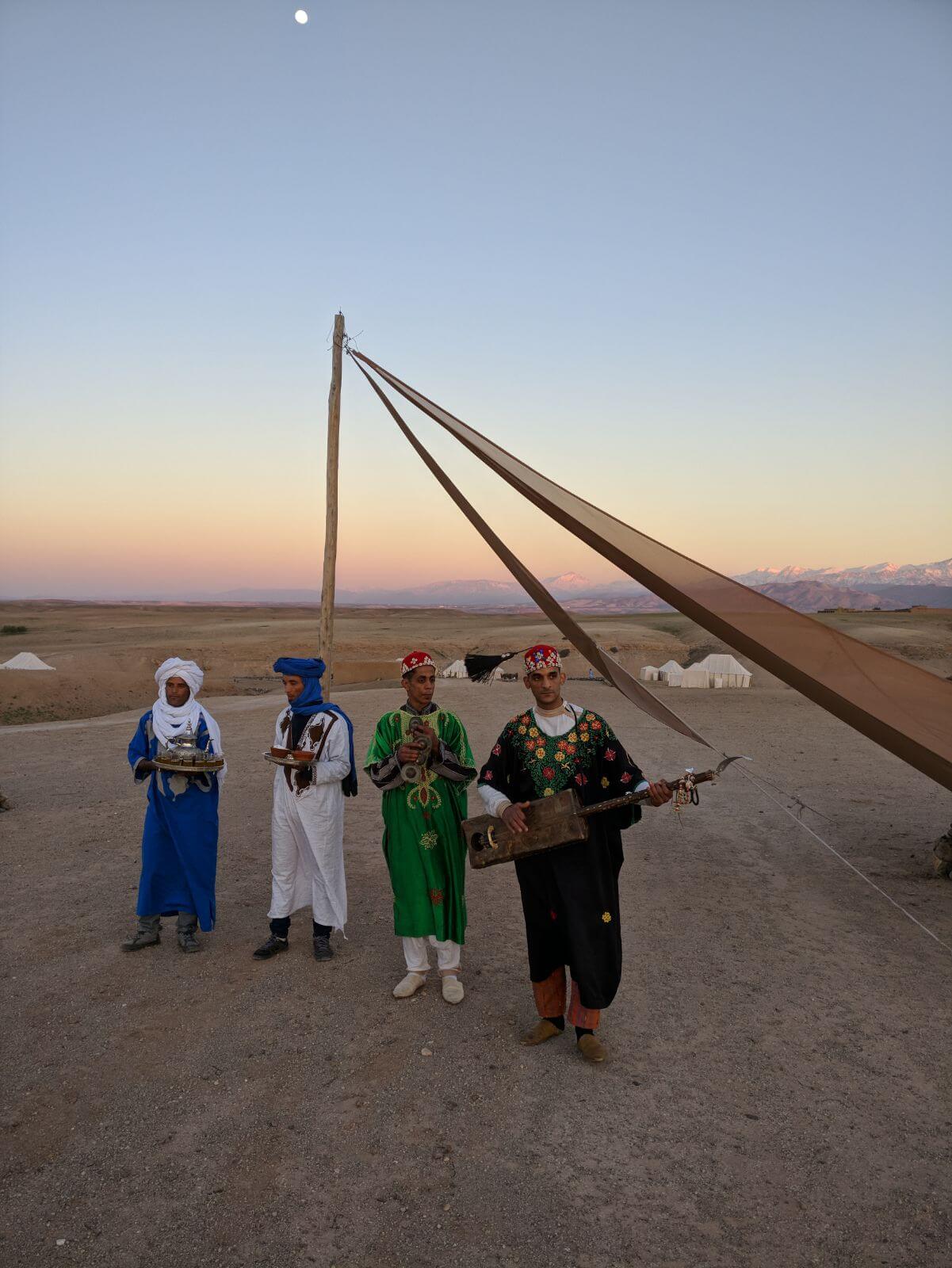 Skoura
Here, stay at the secluded 200-year-old Dar Ahlam. Lined with palm and almond trees, the hotel provides stunning views of the distant Atlas Mountains. Each dinner setting and menu is completely tailored to you, making it (almost) impossible to see any other guests during your stay here. If you're looking for that digital escape and to clear your mind, definitely make this stop a priority. An added bonus — it's not too far from the Valley of Roses for blooms and a photo-op and Berber Village for a tea ceremony.
Sahara Desert
The largest hot desert in the world, the Sahara Desert is a dune filled with undeniable beauty and undulating ridges for miles and miles. The sunrise here is a morning must- if you're a night person, make this morning your exception.
Fes
Come to Fes for the food, medieval architecture, and to take a step off the beaten track. Make sure to taste fresh bread, dates, and all of the olives - all things I'm sure you'll want to go back for.

Mary Grayson is a constant traveler based in NYC. See more from her here. All photos are hers.
PIN THIS POST
Want a touch of Morocco in your home? Shop the edit here: