Welcome to the Lunar Eclipse in Capricorn. ♑️🌕🔥
For those of you sitting here going WTF, didn't we just have an eclipse 2 weeks ago, and isn't Mercury spinning backwards too?! — the answer is, well yes, lovely, we sure did — and yes it sure is.
Here's the low down on why there are two eclipses this month. Every single month, forever and ever, we can count on the consistency of the lunar cycles. There's a New Moon every single month and a Full Moon, you guessed it - every single month. And then, every once in a while - there's a special phenomenon: as the Moon continues along its path it comes directly into the traveling line of the Sun and the Earth. As the Moon travels between the Sun and Earth, it temporarily blocks the Sun: voila - solar eclipse!
The other type of eclipse - the lunar eclipse - occurs when the Earth passes directly between the Sun and Moon, casting a shadow that often makes the Moon appear that deep red hue.
So as we move into this Full Moon Lunar Eclipse Violet Guide has pulled cards for us. Here's her reading below - she's here to tell us a bit more about what this Eclipse means for us!
The Full Moon Eclipse is here and we are going in to full Warrior mode. In the vision for this reading I immediately saw the shape of a horse shoe and it starting swinging like a lasso, a symbol that it's time to take charge of your life.
There's also a significant number in this reading - the number seven, a signifier of rest and success. It is time to set your will and set your intentions onto a new path. You are filled with strength and you will move forward. Let's call it like it is and PUSH PUSH PUSH forward.
In this lunar cycle you are coming home to yourself. You have the mental discipline to rise above it all with the wisdom you have been collecting about yourself. You have had many battles and have won…. Now appreciate how far you have come.
It is time to ask yourself: "how much power have I given to others?" Consider: what can you do for yourself? If you can name what you can't do then the follow up question should be "who said I can't" … and then change that voice to "CAN"… and show yourself that you can do it.
Be your own chariot.
Focus on what you have accomplished.
This was the image of the lasso of the horseshoe:
I saw the Sun Card of Enlightenment with the Two of Wands as the connector piece. These two energies together are pulling your wisdom of bright fire energy into action onto your new path. It is time to get on your yellow brick road of dreams.
Be gentle with yourself. You have gone through a lot so nothing but empathy and kindness over yourself.
The sling shot of the root base is hitting your karmic relationships within the Justice Card being the tension of really collecting those voices of past relationships and turning those voices into a voice of the Father of Pentacles which is holding your drive of being an entrepreneur. It is saying change those old voices focusing on relationships into voices that focus on your business.
Collect the wisdom and move onto your work.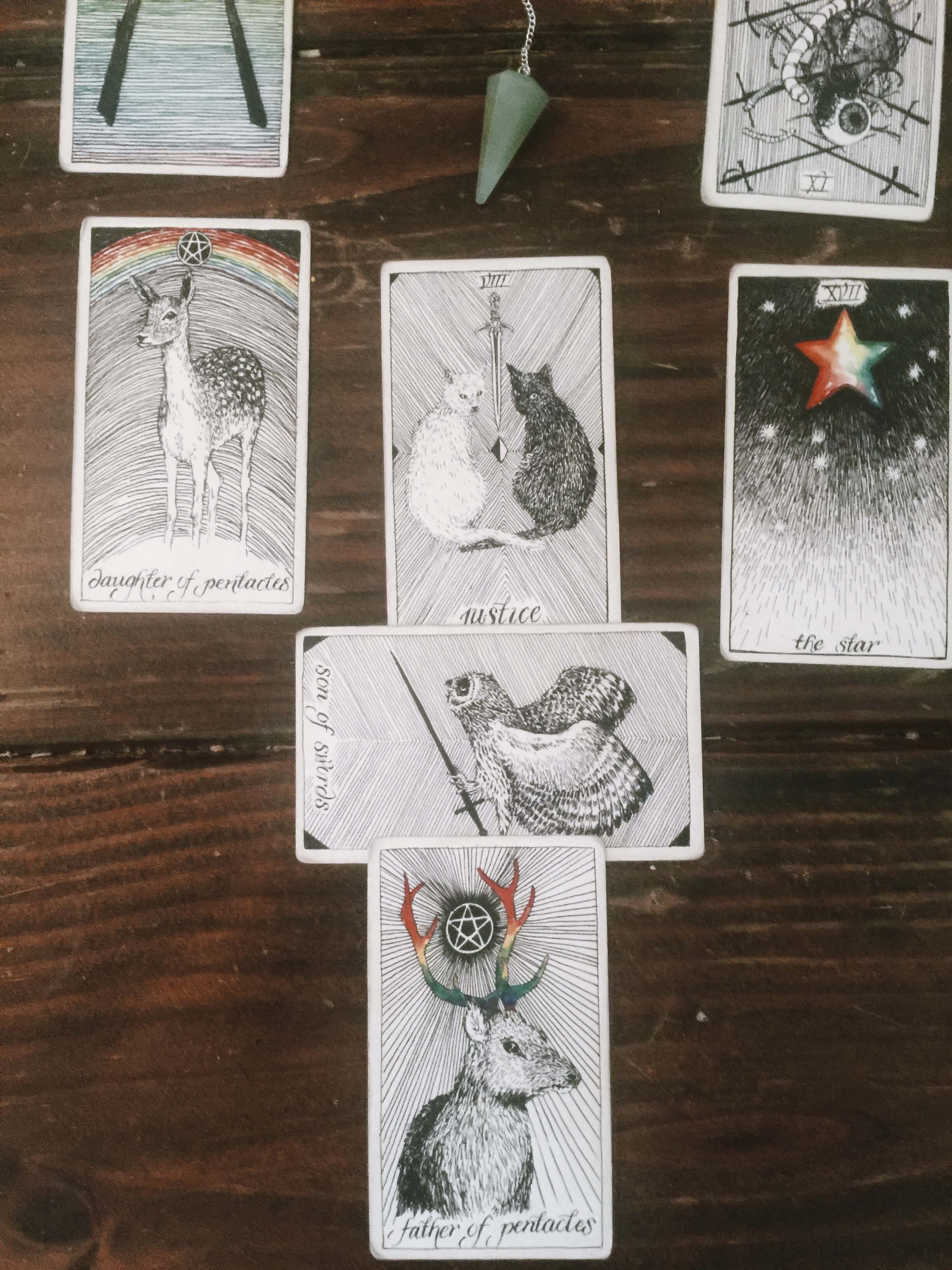 Full Moon Lunar Eclipse Reading
That will change your direction into focusing on the Star Card of your true dreams. What do you actually want to do with your life right now?
Speak it.
Feel it.
Write out your business plan to achieve it, and if it needs refining dream up a new way to achieve it!
The Nine of Swords is here to say LET IT DIE OFF. LET IT GO. ITS DEAD TO YOU. Those voices hold NO energy in your body to live and breathe anymore. You CAN DO IT. That anchors in with the 10 of Cups… which is attracting the community that you want to connect with and be apart of!
Ride on sweet Chariots!
Love,
Violet Guide

Words and images by Violet Guide.
Violet Guide worked as an ordained minister, working with trafficked and sexually exploited girls and women. She led healing teams, teaching individuals how to connect with their visions and heal deep-rooted traumas. She knew she needed to find a way for all of humanity to have access to healing without the ties of religion as an influence... so she left to find her truth path. Violet Guide found a path to true healing for mankind through reiki and tarot energy healing. She learned how to break toxic links of codependency and to trust her own body, mind and spirit again. Now she lives to help others do the same for themselves. Book a personal session here.